How to create codeless augmented reality with ARConnex 
Video tutorials for each type of AR experience are provided below.
AR Video – Video is todays #1 format for audience engagement and ARConnex has completely automated turning video into AR Video experiences.
AR-3D – Content creators can use any 3D or CAD software they prefer. Our support for Assetbundles made with Unity Software, provides a proven tool to import content and create stunning interactive animated AR without programming.
You control your message, analytics, up-loaded content and when your experiences are active.
The platform handles cross-platform video/audio transcoding, the automation of the AR code, cloud delivery and removes the cost of mobile AR app through the use of a free universal Augmented Reality Browser.
Audiences using the widest array of mobile devices on the market gain immediate access to view, load, place, size and share your branded augmented reality experiences anywhere.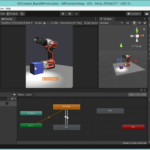 If you or your creative teams need assistance with AR content creation, ARConnex provides an array of
production services
.