How to create code-less augmented reality.  
Video tutorials highlight each of the 4 supported content types.
Quickly learn how to create, upload, and publish your own AR.
AR Video – Video is todays #1 format for audience engagement and ARConnex has completely automated turning video into AR Video experiences.
AR-3D – Content creators can use any 3D or CAD software they prefer. Our support for Assetbundles made with Unity Software, provides a proven tool to import content and create stunning interactive animated AR without programming.
Upload your target image, content, branding and button graphics using a simple web-based form. The platform handles the all the video and audio transcoding. Hit publish and your AR experience is live. Our automation of the AR code, cloud-based media delivery, and universal Augmented Reality Browser removes the cost of mobile AR apps. Audiences can scan, load, place, size and share your AR experiences anywhere. 
Changing the landscape of AR production with a DIY approach.
With the ease of an upload to ARConnex and the power of Unity®, non-programmers such as 3D modelers, Animators, CAD engineers, Creative Artists and Designers as well as Unity® users can now support the entire augmented reality production pipeline themselves. With team support included with all ARConnex accounts, we open up new avenues for AR content creators, as well as, a huge community of resources for businesses and marketers.
The ARConnex 3D upload supports Unity® AssetBundles. Our 3D AR tutorials are designed get those new to Unity® Editor, up to speed fast. Tutorials focus on the basics of the interface, importing 3D models, saving AssetBundles, backing up your work and uploading to ARConnex. They also highlight use of Unity drag n drop "event triggers" to build sophisticated interactive animated 3D AR experiences.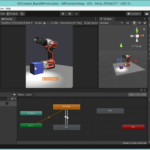 If you or your creative teams need assistance with AR content creation, ARConnex provides an array of
production services
.