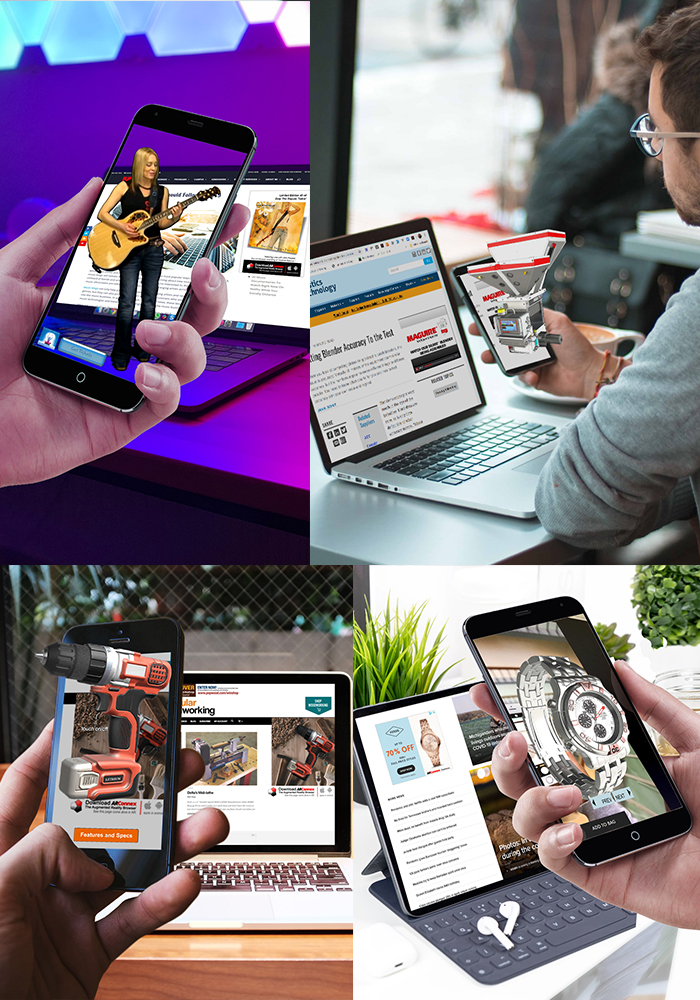 AR advertising is already outperforming other channels. Your campaigns can create demand and strongly influence purchase intention.
There are many ways to effectively engage prospects and add value to your ad campaigns by using Augmented Reality (AR).
Instead of being limited to glimpse-level awareness that gets lost in the shuffle, AR provides informative interactive 3D and video experiences that tell your story.
Introduce engagement metrics for print ads
Make AR simple with automation
Offer audiences a single AR experience app
Click rates for display ads are low and getting worse. Print has no connection to the digital arena. AR programming and app development is costly and hard to adopt at scale.
You need a way to quickly upload, modify, test and enhance creative with interactive AR experiences. And that need is getting stronger every day — especially if your competition already is.
Tap into the self-serve AR cloud platform that is so easy to use, everyone in marketing can be an AR expert. Upload video or 3D files to quickly enhance online and print ads with cutting edge augmented reality. Cost saving of the universal Reality Browser, real-time view metrics and on the fly content changes, gives your campaigns the power to further engage and captivate.
With the ARConnex Reality Browser, tech barriers disappear and users get a single source to view, create, and interact with your AR campaigns.
3D
Make your ads come alive with interactive and touch controlled 3D models, graphics and animation. No code!
Audio
Bring your ads to life with voice information, sound effects or music with AR audio.
Video
Get live with AR video ads in under a minute. Any static ad can have video content.
Transparent Video
Put presenters in your ads and deliver one-on-one impact.
For information on enterprise licencing, advertising in AR, investor relations or just have a question.